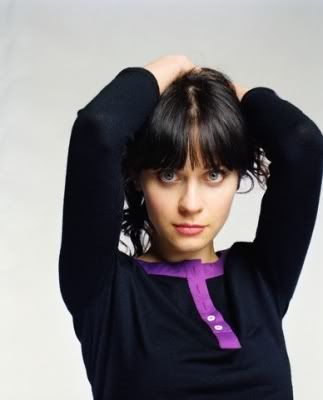 What woman doesn't want the wide-eyed effect that Zooey Deschanel has?
It's so significant that you can hardly be exposed to an episode of Who's that Girl without hearing it mentioned at least once.
In fact, those eyes get the blame for the fact that Zooey's character gets away will what she does as the quirky roommate in an otherwise all male household.
The good news is that you too can create such a look, even if you don't really get away with anything quirky because of it. A lady can try, can't she?
Step Out of the 80's
I've been saying this for years and I am happy to have a chance to say it again: Keep the eyeliner out of your eyes!
This isn't the 80's anymore. Eyeliner that can touch your eye went out with the big hair, so if you're still doing the big hair, stop that too!
Shading is Everything
The key to the wide-eyed look is shading. Most of you already now that lighter colors make things look bigger while darker colors make things look smaller, hence the fact that we are all searching for the perfect little black dress and not the perfect little white dress. Sometimes, as is the case with eyeliner and eyeshadow, you need a contrast in order to make the lighter colors stand out.
When you put that eyeliner on the top of your bottom lid instead of the outside of it, I cringe and your eye actually looks smaller than it did.
Applying the Eyeliner
The darkest, thickest part of your eyeliner should be at the corner of the outside of your eyelids, where the top and bottom meet. When you apply the eyeliner to your bottom lid, apply it on the outside, underneath the eyelashes. This causes a sort of illusion.
The top of your bottom lid blends with your eye so that your eyes actually look larger. The eyeliner provides the contrast to set off the lighter colors.
By keeping the eyeliner thinner along the majority of your lids and thicker in the corners, you provide another illusion.
The eyeliner in the corner creates a sort of shade so it looks like your eyes stand out more than they actually do. You can enhance the effect even more by applying your eye shadow correctly, but that's for another article.
If you have any doubts about this method, just take a look at the way Zooey's eyeliner is applied in an effort to enhance her trademark look.
Related articles