Submitted by Randy Barefoot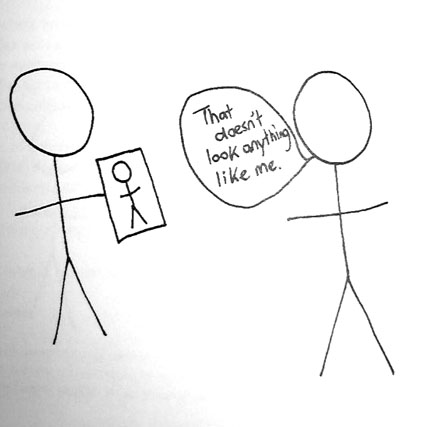 Q.  What's brown and sticky?
A.  A stick.
Q.  What do you call a boomerang that doesn't come back?
A.  A stick.
Submitted by Deep Soni
"I bought a box of animal crackers and it said on it 'Do not eat if seal is broken.' So I opened up the box, and sure enough…" ~Brian Kiley
"Sincerity is everything. If you can fake that, you've got it made." ~George Burns
"If I ever have twins, I'd use one for parts." ~Steven Wright
Got a funny (clean) joke, story or pic to share? Add it to the comments section below, or email me at angela@angelaatkinson.com  to have it published in the Your Daily Smile column!
(Visited 59 times, 1 visits today)
Angela Atkinson is a Certified Life Coach and the author of more than 20 books on narcissism, narcissistic abuse recovery and related topics. A recognized expert on narcissism and narcissistic personality disorder who has studied and written extensively on narcissistic relationships since 2006, Atkinson was inspired to begin her work as a result of having survived toxic relationships of her own.
Atkinson offers trauma-informed coaching and has certifications in life coaching, level 2 therapeutic model, CBT coaching, integrative wellness coaching, and NLP. She is a certified trauma support coach and certified family trauma professional. She also has a professional PTSD counseling certification. Her mission is to help those who have experienced the emotional and mental devastation that comes with narcissistic abuse in these incredibly toxic relationships to (re)discover their true selves, stop the gaslighting and manipulation and move forward into their genuine desires – into a life that is exactly what they choose for themselves.
Along with her solution-focused life coaching experience, Atkinson's previous career in journalism and research helps her to offer both accurate and understandable information for survivors of abuse in a simple-to-understand way that helps to increase awareness in the narcissistic abuse recovery community. Atkinson founded QueenBeeing.com Narcissistic Abuse Recovery Support, the SPANily Narcissistic Abuse Recovery Support Groups and the Life Makeover Academy. In her life coaching practice, Atkinson's clients enjoy her personalized approach that allows and encourages them to become the best possible versions of themselves and to succeed in doing what they love most. She offers individual and group coaching for victims and survivors of narcissistic abuse at NarcissisticAbuseRecovery.Online and NarcissismSupportCoach.com.